AP Custom Rotomolding offers a complete turn-key process from product development all the way to packaging and shipping.
AP Custom Rotomolding launched their new website today: apcustommolding.com. With the addition of the Sidney, Nebraska plant, they have added more capabilities and floor space for production and shipping. Their passion is plastic – with 25 years of experience, they have learned what works and what doesn't. And they continue to grow and evolve with process improvements.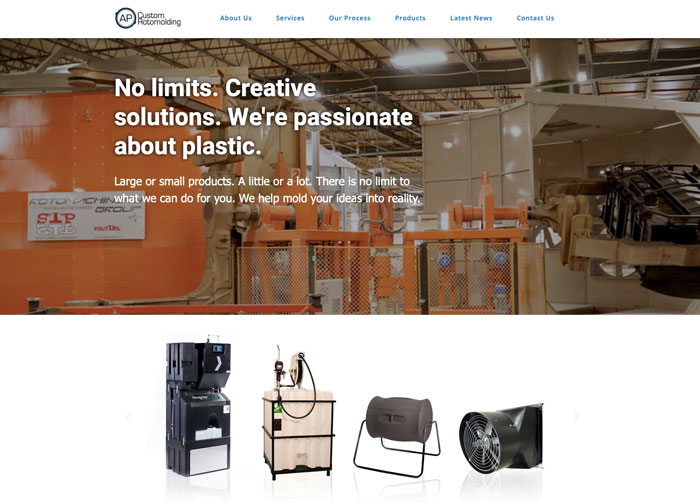 With two warehouse locations in Ontario and Nebraska, AP Custom is conveniently located for production and distribution. Grassie is only 30 minutes from Buffalo, New York and 3.5 hours from Detroit, Michigan. Sidney, Nebraska is centrally located in the U.S. with close proximity to major highways and railways.
In the About Us page, there is detailed information about how AP Custom started and their growth along the way. They offer total turn-key Services starting with CAD design development, production, quality assurance testing, packaging, all the way through to warehousing and shipping. Whether it's rough prototype or a sketch on a scrap piece of paper, or even if it's just an idea, AP Custom can help you through the process from start to finish.
The Rotomolding Process page describes how rotomolding works and why this process is so economical. The Products page features the variety of industries that have they have developed products for. AP Custom Rotomolding can create products as small as a bowl to a large motorcycle cover and trailer. Products can be simple or complex. And there are no limits on sizing or product runs.
Explore apcustommolding.com and learn how AP Custom Rotomolding can help mold your ideas into reality. For more information, call 1-905-945-3116 or 1-308-254-1137 today.